Lingaa(2014) Telugu Movie Review
TeluguMp4Zone.com rating:

2.5/5
Punchline: Dam It!
Genre: Social/Action
Type: Bilingual
Banner: Rockline Entertainments Pvt. Ltd
Cast: Rajinikanth, Anushka, Sonakshi Sinha, Jagapathi Babu, K Viswanath, Karunakaran, Santhanam, Dev Gill, Brahmanandam, Radha Ravi, Vijay Kumar etc

Cinematography: R. Rathnavelu
Editor: Samjith Mhd
Music: A. R. Rahman
Art: Sabu Cyril
Action: Lee Whitetaker & T. Ramesh
Choreography: Brinda, Chinni Prakash & Shobi

Lyrics: Suddala Ashok Teja, Chandrabose, Anantha Sriram, Vanamali & Kandikonda
Dialogues: Pon Kumaran
Story, Screenplay & Direction: KS Ravi Kumar
Producer: Rockline Venkatesh
Release date: 12 December, 2014
Theater watched: Big Cinemas, Tirupati
Story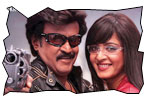 There is a 70 year old Lord Siva temple in a village called Singanoor. The temple was closed on the day it was built. It was built by Lingeswara Rao (Rajinikanth), an oxford educated engineer who is also the local Zamindar. He builds a dam for local people and spends all his money in the process. When the local leaders decide to reopen the temple, they are in search of the grandson Lingaa (Rajinikanth). The rest of the story is all about how Lingaa comes to know about the greatness of his grandfather and how he lives up to the reputation of his grandfather.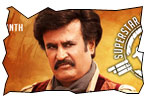 Actors:

It's a cakewalk for

Rajinikanth

. His get-ups are nice and his charm is in tact.

Anushka

has a limited screen space. She is nice as an TV journalist.

Sonakshi Sinha

played village belle of pre-independence era. The dubbing done by Chinmayi didn't suit her character.

Jagapathi

played a villain character. The white actor who did the role of British collector is impressive.

Santhanam

entertains as a sidekick.

Technical departments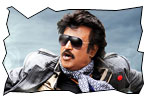 Story - screenplay - direction: The story of the film has good commercial point. But it's the screenplay that played the spoilsport. Direction though old-fashioned is good in parts. By the time flashback is over, we feel like the movie is completed though Jagapati Babu's character is unfinished. The climax of the film is tedious and cumbersome. The conflicts created in one scene are resolved in the next scene.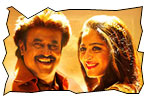 Other departments:

Songs scored by

AR Rahman

are not of his standard. Background music is good. Camerawork by

Rathnavelu

reflects the mood of the movie. Dialogues which are one of the strengths of Rajinikanth's movies are written well. Editing by

Samjith

is alright. Production values by

Rockline Venkatesh

are grand.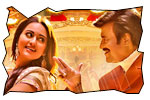 Analysis: Rajnikanth movies are known for creating magic on screen with nice story and punch dialogues. Though the intention is to create a good content, the magic in Lingaa is missing. Plus points of the film are Rajinikanth, dialogues and characterization of Lingeswara Rao (pre-independence). The screenplay is uninteresting and direction should have been better. On a whole, Lingaa is for fans!